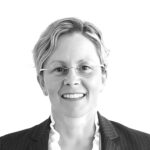 Karen Clark Cole
CEO • Blink
Blink
CEO and Co-Founder • Blink
Seattle, Washington
Karen Clark Cole is the Chief Executive Officer (CEO) and Co-Founder of Blink UX. Today Karen is primarily focused on Blink's culture and employees, communicating the company vision, and setting the company's growth strategy. Karen also wears the Chief Operations Officer (COO) hat and spends time speaking and writing.
Karen began her career studying Fine Arts in Vancouver, BC at the Emily Carr College of Art and Design. She holds a degree in Art History & Visual Arts from the University of Victoria and is a graduate of the Information Technology & Multimedia program from Capilano University, Vancouver. Karen started a Ph.D. program in Values Driven Leadership at the Benedictine University in 2015.
Karen is an active member and speaker for the International Leadership Association (ILA), an active member in the Small Giants Community, a former member of the Women Presidents' Organization (WPO), and former board member for the Seattle Youth In Focus organization. She provides business advice for The Tronie Foundation and is a big supporter of their mission to end human trafficking. Karen is currently the President of the Board for the non-profit organization she founded in early 2014, Girls Can Do. Girls Can Do is an event series for girls with the mission to inspire a generation of Possibility Thinkers and encourage young women to have big dreams and pursue them.
Through her work at Blink, Karen was a winner of the 2016 Enterprising Women of the Year award and she was a finalist for Ernst & Young Entrepreneur Of The Year award in 2015. In 2016, Blink was listed on Forbes Magazine's Best 25 Small Companies in America list and has won the Puget Sound Business Journal's Washington's Fastest-Growing Private Companies award in 2015 and 2012, Seattle Business Magazine's Tech Impact Silver Award in 2015, The Women President's Organization's 50 Fastest-Growing Women Led Companies Worldwide award in 2014, and was listed on Inc. Magazine's Top 5000 Fastest-Growing Companies in America list in 2015, 2014, 2013 and 2012.
Karen currently writes a column for Forbes.com on the Entrepreneurs Channel, and has been written about in Inc. Magazine, Puget Sound Business Journal, Geekwire Magazine, Seattle Business Magazine, Center for Values Driven Leadership, St. Margaret's School, Chapter Be, LTD Daily, and The Pacific Institute.
Karen was born and raised in Victoria, Canada, and she loves to ski, run, garden, kiteboard, and be a mom. You can read Karen's full LinkedIn bio and follow her on Twitter @karenclarkcole.