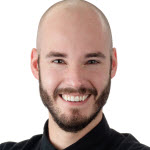 Global Design Strategist •
 

Austin, Texas

With a restless drive to innovate powered by an interdisciplinary background in design, technology, business, and psychology, Colin focuses on creating forward-thinking solutions across domains (Blockchain, AI, Cloud, etc.) which seek to solve the often unseen, higher-level problems latent in our world and the technologies we use everyday.

As a Global Design Strategist with the IBM Garage, Colin assists clients worldwide in transforming their offerings, industries, and cultures through a user-centric focus, mindset towards what could be, and passion for empowering others to do the right thing – not just the easy thing.

From kickstarting startups to leading large-scale design transformations with Fortune 500 companies, Colin continuously seeks the exciting, discipline-crossing challenges involved in his work that require him to wear a wide arrange of hats – be it a business strategist, developer, researcher, designer, or other – at any given moment. Most of all, he enjoys helping and empowering others in order to bring even the most incredible, future-forward visions to life.