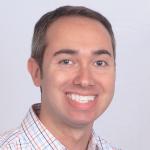 Andrew Schall
Modernizing Medicine
Director of User Experience • Boca Raton, FL
Andrew has over 15 years of experience as a UX researcher, strategist, and designer working with companies such as The New York Times, Citibank, Harley Davidson, and Southwest Airlines. He is currently Head of UX at Modernizing Medicine, and is working with his award-winning team to create the next generation of healthcare technology.
Andrew is passionate about sharing his knowledge and experience in user-centered design at numerous conferences including UXPA, ConveyUX, and HCII. Andrew is an adjunct faculty member at the Maryland Institute College of Art (MICA) where he teaches graduate students about Human-Computer Interaction.
Andrew is Editorial Director for the publication UX Booth, and he also frequently writes on UX topics including a recent article on Voice-Driven Virtual Assistants for UX Magazine, and co-authored the book Eye Tracking in User Experience Design.
When he is not talking about, teaching, or writing about UX, Andrew enjoys taking short walks on the beach with Lucy the Pug.