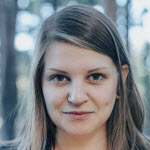 Amy Parker
Woods Creative
Woods Creative • Boston, Massachusetts
Amy Parker is Design Director at Woods Creative where she leads creative strategy, ideation, and design to make visual languages for clients. She works in Portland, ME and Boston, MA.
During the beginning of her professional career, she worked in Switzerland, immersed in the Bauhaus philosophy in design. This insight into design history guides Amy's perspective and practice. To further bring clients an understanding of design form and content, she works weekly with a fine art scholar to enhance design thinking and discovery.
Recognized in Computer Arts Projects Magazine, The Dieline, and OMMA, Amy has created a range of design work. She creates traditional print work as identity systems, environmental signage, packaging, and LP covers. Amy also directs short video reels, motion graphics, wearables, and most commonly sought after, websites. She has been described as "…a phenom of creativity, work ethic and collaboration" and one who "…displays genuine empathy towards others and creates a positive environment wherever she is."
Amy studied at the New England School of Art and Design at Suffolk University where she earned a BFA; Majoring in graphic design and earning a minor degree in fine art. There, she was the sole recipient of the Graphic Design Departmental Honors Award and recognized as an Archer Fellow and Ballotti Scholar.