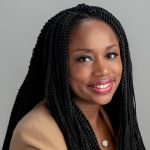 Shanae Chapman
Senior UX Designer • SmartBear
Senior UX Designer • SmartBear
St. Louis, Missouri, USA
Shanae Chapman holds an MPS in Informatics from Northeastern University, a Certificate in Leadership from MIT, a Certificate in Web Design from Webster University, and a Bachelor of Arts in Communication with a Certificate in African American Studies from Saint Louis University.
She is passionate about product strategy, collaboration, and empowerment when designing technical products and systems. She has over 13 years of experience designing products and services for companies such as Boeing, IBM, RedHat, The MathWorks, and Akamai.
Shanae is an active professional speaker in the community and shares knowledge about UX careers, designing secure cloud apps, entrepreneurship, and increasing diversity in tech.
Personal website: https://shanaechapman.com
Business website: https://nerdydiva.com
LinkedIn: https://www.linkedin.com/in/connectwithshanae/
Twitter: https://twitter.com/nerdydivadesign
Instagram: https://www.instagram.comnerdydivashanae
Facebook: https://www.facebook.com/nerdydivadesign