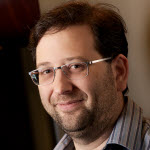 Russ Wilson Head of Design • Google
Director & Head of Design  for Google Cloud Platform
Seattle, WA
Russ Wilson joined Google as Director & Head of Design  for Google Cloud Platform in March 2016. Russ Wilson joined Microsoft in December 2013 as a Partner Director and Head of Design for Business Intelligence, a collection of products and services that enable you to visualize data, share discoveries, and collaborate in intuitive new ways.
Prior to Microsoft, Russ was the founder and Director of IBM's Mobile Innovation Lab. The mission of the lab is to identify disruptive mobile technologies and trends and transform them into new products and solutions that deliver significant value to individuals and companies. Russ also served as the Head of Design for IBM's Application and Integration Middleware business unit, providing design leadership for Websphere, MobileFirst, Pure, IoT, and SmarterProcess. As one of IBM's new Design Executives, Russ helped to teach and evangelize design thinking throughout IBM, and influence a new era in software product development.
Prior to IBM, Russ was the worldwide Senior Vice President of User Experience at CA Technologies where he led the development of an enterprise-wide design language and a common application platform. Russ joined CA as part of the acquisition of NetQoS, where Russell was one of the original executives.
Russ is a serial entrepreneur, an experienced executive, and has proven success in both startups and large companies. His interests include approaches to innovation, user experience design, rapid prototyping, and team building.