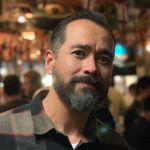 Rob Torres
UX Designer • Blink
UX Designer • Blink
Austin, Texas, USA
Rob Torres is a UX designer and has spent over 20 years designing award-winning user interfaces. He has worked with a broad range of businesses and has extensive experience developing design strategies that balance user needs with business objectives.
Before joining Blink, Rob spent the first decade of his career improving and evolving the user experience for online newspapers as lead designer for the Tribune Company and later as creative director for Knight Ridder. After transitioning out of publishing, he held key design positions at startups and established companies in Silicon Valley. He recently moved back to Texas and is one of the founding members of Blink's Austin office.
In addition to a 30-year love affair with skateboarding (ramps, parks, and backyard pools), Rob spends his free time pursuing his passion for drawing, painting, and printmaking, as well as catching as much live music as he can in Austin.