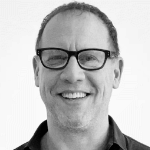 Peter Lutz, PhD
Research Director • Blink
Seattle, Washington
Peter Lutz is a research director based out of Blink's Seattle studio. Peter is fascinated by what makes societies tick. This includes understanding what happens when people and things move together, and how these interactions generate meaning. He brings this curiosity to all his research endeavors.
With a PhD in socio-cultural anthropology, Peter has over two decades of international research experience which spans design, healthcare, mobility, education, and sustainability. One of his greatest strength is identifying the most relevant research objectives and methods to answer the most interesting questions within a project's particular constraints. His career spans both theoretical and applied research, in both public and private sectors.
Beyond the office Peter enjoys international travel (arrivals more than the travel part), avant-garde films (the ones my kids usually hate), music (old and new), the outdoors (preferably wild), and family and friends (in moderation).