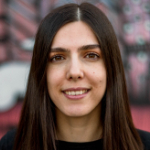 Nicole Nardelli
Product Designer • Moneyfarm
Trento, Italy
I'm Nicole, a product designer currently working at Moneyfarm, where I design digital experiences for financial products from my home in the middle of the mountains in Italy.
Up to now, I had the opportunity to work as a designer in agencies, and startups across various industries, and on different types of projects. On multiple occasions, I found myself working as the only designer, and in companies at the beginning of their design journey. That's when I started to get interested in the power of including people across different disciplines inside the design process effectively, and more in general in all the conversations and interactions happening around design work.
Recently I started documenting my journey on my blog, where I write about all the challenging situations I stumble upon inside the product development process, and all the things I'm learning along the way.