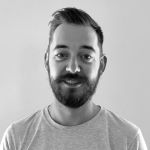 Matt Kissick
Design Director • Blink
Design Director • Blink
San Francisco, California, USA
Matt Kissick is a UX designer at Blink. He loves a good design challenge and an even better design system. From print to products to architecture, Matt likes to surround himself with all things design.
Matt received his BDs in Industrial Design at OCAD University in Toronto, Canada. He spent 5 years as a technician/trainer with Apple where his interest in user-focused, digital design was sparked. Matt has since worked with companies across the United States and Canada including T-Mobile, Kaiser Permanente and Western Union.
Originally from Ottawa, Matt still finds himself at the (only) hockey rink most weeks. When he's not stopping pucks he loves making music, finding the next great view or watching Netflix until it asks if he's actually still watching.