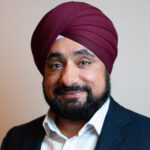 KD Singh Arneja
Senior Director of User Experience • Clarivate
Senior Director of User Experience • Clarivate
Greater Boston
KD Singh Arneja has been in the industry since 2003. While working with startups and mature companies, he has designed and delivered delightful products that have been the culmination of UX, Agile practices, and Design Thinking while working with high-performing teams.
KD is currently the Senior Director of User Experience at Clarivate, a global information product and services company that caters to the LifeSciences and MedTech industry. Before Clarivate, he was at HealthEdge, where he executed design strategies for healthcare payer and clinical solutions. KD also runs a micro boutique UX agency to help startups with their MVPs. KD has held UX Designer, UX Architect, and UI Engineer roles while working in various domains such as Search and Analytics, Health Care, Enterprise Asset Management, Machine Learning, and BioPharma.
KD's passion project is to coach and nurture budding UXers and help them find their calling in this fantastic industry. He also regularly presents in Agile New England, BPMA, UXPA chapters, and Customer Experience conferences.