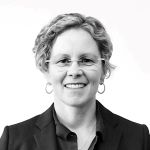 Karen Clark Cole
CEO & Co-Founder • Blink
Chief Executive Officer and Co-Founder • Blink
Seattle, Washington, USA
Karen is the Chief Executive Officer (CEO) and Co-founder of Blink. Karen is primarily focused on company vision and developing strategies to get there. Karen has a long history of execution and implementation and her leadership philosophy is grounded in the idea of prototyping everything, staying fluid, open and adaptive. Karen supports Blink's mission, enriching people's lives, through her dedication and work with employees, Blink's clients and their end-users.
Karen implemented Blink's cultural framework, with six pillars to measure and ensure that employees leave at the end of the day feeling valued and positive, and are able to create a bigger impact in the world around them as a result.
Karen began her career studying fine arts in Vancouver, British Columbia, at the Emily Carr University of Art and Design. She holds a degree in art history and visual arts from the University of Victoria and is a graduate of the Information Technology & Multimedia program at Capilano University in Vancouver. Karen also started a Ph.D. program in values-driven leadership at the Benedictine University in 2015.
Through her work at Blink, Karen was a winner of the 2016 Enterprising Women of the Year award and a finalist for the Ernst & Young Entrepreneur of the Year award in 2015. In 2016, Blink was listed on Forbes Magazine's Best 25 Small Companies in America list.
Karen writes a column for Forbes.com on the Entrepreneurs channel discussing many topics including how UX is Revolutionizing Business, she has been written about in several articles, with a recent biography talking about her leadership through chaos, in Seattle's tech authority, Geekwire. For fun, Karen was featured in a small-business commercial for MetLife, which aired internationally over two years.
Karen is a member of the Small Giants Community, the International Leadership Association (ILA), and is the Executive Director for the nonprofit organization she founded in 2014, Girls Can Do. GCD is an event series for girls with the mission to inspire a generation of possibility thinkers and ignite a vision for equal opportunity. In 2016, First Lady Michelle Obama gave a keynote video address, and Karen received a thank you letter from President Obama for her work with girls.
Karen speaks at conferences and loves to talk to groups of entrepreneurs and students whenever she can. In June 2019, she spoke on the keynote panel at the global Women and Leadership conference, and she is often a guest on radio and podcasts.  In August 2019, she was interviewed on "Patricia Kathleen Talks with Female Entrepreneurs" and appeared later that month on Startup Grind San Diego, an interview that aired on Fresh Brewed Tech's "Tacos & Tech." In 2017, Karen was interviewed on Sirius radio's Mind Your Business, by the Wharton School of Business. In 2020, Karen became a regular member of the weekly podcast produced by the Oxford Center, called "The 21 Hats" aimed at entrepreneurs and business owners.
Karen lives in Seattle, Washington, and was born and raised in Victoria, Canada. She loves to trail run, garden, backcountry ski, kitesurf, and hang out with her amazing daughter. You can read Karen's full LinkedIn bio and follow her on Twitter @karenclarkcole.