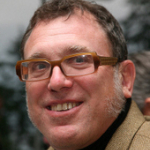 Joe Welinske
Accessibility Director & ConveyUX Program Director • Blink
Seattle, Washington
Joe Welinske is Blink's accessibility director and the program director for Blink's annual conference ConveyUX.
As accessibility director, Joe is charged with bringing innovation and training about supporting disabilities into every client project and to every staff member. Joe has taught accessibility at the University of Washington and he is the co-organizer of the Seattle Area Accessibility & Inclusive Design meetup. From the International Association of Accessibility Professionals (IAAP), Joe is a Certified Professional in Accessibility Core Competencies (CPACC).
Since 2013, ConveyUX has been Seattle's annual conference for user experience professionals. Joe Welinske has been the program director since its inception. Joe leads the speaker selection process and ensures an enjoyable educational and networking experience for the attendees.
In addition to his work at Blink, Joe teaches at the University of Washington. Joe holds a B.S. in industrial engineering from the University of Illinois and an M.S. in adult instructional management from Loyola University.