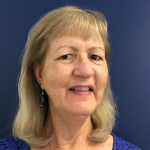 Jo Anne Wright
General Dymanics
Senior Human Factors Engineer • Sterling, VA
Jo Anne is a Senior Human Factors Engineer at General Dynamics Information Technology in northern Virginia.  She is a passionate user advocate focused on improving the customer experience for the National Practitioner Data Bank, a federal repository supporting health care quality in the U.S.  
Jo Anne is a usability engineering team-of-one, focusing on user needs and business value to align resources, build empathy and create simple and intuitive digital experiences. She holds a Master of Science from the University of Michigan in Human Computer Interaction and is a certified SAFe Agilist, practitioner and product owner. 
She's an Axure expert, conducting numerous workshops for Big Design and Axure World. After 18 years of UX experience, including Custom Ink and Travelocity, she can no longer claim to be a UX rookie. 
Linked In: tallgal
Twitter: @tallgal