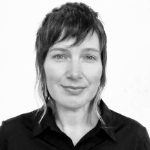 Jill Hannay
UX/Visual Designer • Blink
Greater Seattle Area
As a visual and interaction designer at Blink, Jill creates thoughtful experiences that solve practical problems while sparking joy and connection.
With a background in visual art and writing, and a past life as a nonprofit director, Jill's interest in storytelling and social impact led her to a career in human centered design. In her most recent role, she worked as a creative director, where she led a multidisciplinary creative team to create accessible, high-impact brand and digital experiences for nonprofit and government agencies. Jill is passionate about design's potential to positively influence culture and our quality of life, and to serve as a vehicle for social change.
Jill lives on the southernmost reaches of the Puget Sound next to a pretty little oyster farm. When she's not working at Blink, Jill loves making pottery, talking about books and life in general, procrastibaking, and taking beach walks with her husband and adventure kitty, Linus.