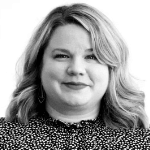 Jenifer Beery
Recruiter • Blink
Seattle, Washington
Jenifer Beery is a recruiter at Blink, where she helps connect people to their passions. She is driven by creating the best candidate experience possible and helping to build strong creative teams.
Prior to Blink, Jenifer worked as a global talent and onboarding specialist at Crocs, where she revamped the onboarding process and built a stellar internship program. Jenifer also has a varied background in project management in residential/multifamily operations and nonprofit theater. Jenifer is a PNW native, with a BA in Theater Arts from the University of Puget Sound.
Outside of Blink, Jenifer can be found sculpting Rice Krispies for parties, experimenting with DIY projects around the house, or curled up with a cat and a good book. She loves to explore new cities and museums while traveling, getting out of the house for a new play or film, and cheering on the Seattle Kraken with her husband.