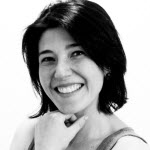 Design Director • Vancouver BC, Canada
With over 20 years of experience under her belt, Jane's used her expertise in many design competencies to work in more than 50 projects for a range of different industries and countries. At Digitalist, she leads a team of 12 designers in Vancouver and facilitates internal and external dialogue around the Business and Service Design practice. In client projects, she acts as a lead consultant helping customers discover their digital future.
Previously, Jane conducted lectures on Service Design in Digital Context at the Laurea University's Service Innovation and Design Master's program, where she also graduated in 2013. She is a Ph.D. student at Aalto University and owns a Bachelor in Graphic Design, and another Masters in Web Design.
Together with the Aalto Learning Environments Research Group, Jane is involved in the research, design, and development of New Media tools, as well as their use and application, in the field of learning.
She regularly shares her work in publications, workshops and conferences. She is involved in the leadership of communities and associations such as the Interaction Design Association (IxDA), Service Design Network and Futures Specialists Helsinki. She is always interested in exploring new and established tools, approaches and techniques. She does it to enable herself and her colleagues to design services and products that are more useful, usable and desirable for customers and efficient and effective for organizations.
Past companies and clients include: Fjord, Futurice, Nokia, NSN, Volvo, Renault, Marcopolo, Lojas Renner, Positivo Group, Ericsson, Banco do Brasil, Bematech, Gol Linhas Aéreas, Porto Seguro, Pacific Blue Cross, Nokian Tyres, Honka, Iittala, Stockmann, Viking Line, Safmarine, Iittala, Rovio, Finning, ABB and many more.
To find out more about her talks and workshop engagements check both links below:
Personal website: http://www.janevita.com/
Slideshare: https://www.slideshare.net/janevita/presentations
LinkedIn: https://www.linkedin.com/in/janevita/
Twitter: https://twitter.com/janevita