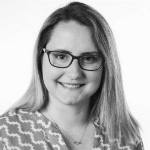 Grace de Athayde
Head of Digital Design (Corporate Technology) • the LEGO Group
Gråsten, Denmark
Grace is a senior digital leader with over two decades of experience in design, entrepreneurship, software development, and driving change in complex environments.
On her approach to change, Grace shares:
"My approach to transformation is centered in progress over perfection and in building simple systems that can evolve. I believe in designing FOR people WITH people. And wherever possible, make it fun!"
Currently, Grace is building a design team to support Finance, People & Talent (HR), and Facilities around the globe for The LEGO Group.