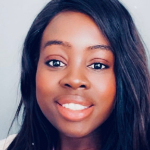 Gloria Osardu, PhD
Director, Product Experience Research • Gusto
Gloria was originally scheduled to give a talk during this event. She has unfortunately had to take an emergency medical leave to address a family challenge. We hope you will enjoy the new session in her former time slot with Jen Devins.
Arlington, Virginia
Gloria O-B Osardu, PhD is a consumer/customer research and insights senior leader currently heading Product Experience Research efforts at Gusto. She is a software engineer turned user researcher; after she spent some time researching human-computer interaction in graduate school. She has spent most of the last decade building and scaling highly effective research teams with the purpose of placing customers/users and their experiences at the center of how companies work backwards from business goals/mission. In her role at Gusto, she oversees: 1. Initiatives to help teams connect with users more, 2: Research Operations and enablement efforts which drive end-to-end research practices and 3. Teams of dedicated researchers who are embedded in product and design teams to drive forward-looking strategic user research. Prior to Gusto, she was at Amazon(AWS) leading research teams across several cloud services including Identity, Security, Commerce Platform, Internal Ticketing, Government Transformation, Storage etc. 
Outside work, Gloria is a mom to two amazing kids, Samuel and Sarah. She spends time exploring other cultures and experiences outside hers, reading and listening to great podcast episodes.