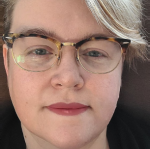 Gianna Pfister-LaPin
Senior UX/UI Designer • Mayo Clinic
Senior UX/UI Designer • Mayo Clinic
Rochester, Minnesota, USA
Gianna Pfister-LaPin is a Senior UX Designer and team lead for an internally-focused UX Design & Analysis group within Mayo Clinic.
She has spent the entirety of her career focused on helping people find and take action on the information they need to do their jobs well. She specializes in user-centric information architecture and design and provides consultation services to teams focused on building or reengineering intranet sites.
She has led or contributed expertise on a diverse array of media projects at Mayo Clinic, from the Media On-Demand Patient TV Network to its internal self-publishing platform, based on WordPress.