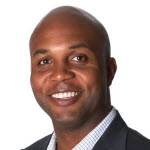 Dwayne Edwards
Portfolio Director • IDEO
Portfolio Director • IDEO
Chicago, Illinois
Dwayne Edwards is a Portfolio Director at IDEO Chicago. He helps clients, teams, and individuals address people's deepest needs and meet their highest purpose. His curiosity paired with deep optimism empowers teams to navigate complexity and build new human-centered solutions.
As a former intelligence officer in the United States Marine Corps, Dwayne takes a detailed eye to identify the best mix of resources and conditions to ensure success. He is passionate about the intersection of business, design, and technology where he believes creativity lives. Prior to joining IDEO he worked as a product manager at Volvo Cars of North America where he helped develop Volvo's subscription model and built stronger relationships between retailers and customers.
Dwayne holds an MBA from the Yale School of Management. When not trying to creatively problem-solve the future of mobility, you can find him being bossed around by his two young boys, or channeling his inner yogi.