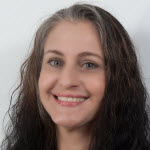 Ptype • San Francisco, California
Debbie Levitt is the Principal of Ptype (short for prototype), a UX agency headquartered in San Francisco. She has been a UX Strategist, Interaction Designer, and Information Architect for over 20 years.
As someone using Axure for work nearly daily since early 2011, her instruction style incorporates her experiences, tips, and best practices. She has created customized curricula and trained individuals, startups, agencies, and corporations. Ptype is listed on Axure's site as one of their few recommended trainers.
Debbie is available for private on-site and remote training as well as UX strategy, design, Axure prototyping, and other experience design consulting work. She also offers live Axure prototyping workshops in San Francisco throughout the year. In 2016, Debbie released a 9+ hour video course on Axure 8 through O'Reilly.
Outside of UX and Axure, Debbie is a voice actor, singer, and loves riding her 500cc Piaggio MP3 near and far. Learn more about Debbie's Axure training or connect with Debbie at http://pty.pe, @PtypeUX on Twitter, or http://facebook.com/PtypeUX