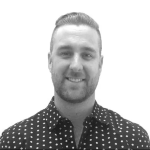 Dan Kellett
Solutions Architect • Blink
Solutions Architect • Blink
San Diego, California, USA
As the solutions architect at Blink, Dan Kellett develops strategies to connect design with solutions. He helps Blink and our clients develop strategies for an optimal flow from design into engineering, lead architecture design, and aims to ensure that solutions successfully incorporate high quality design.
Dan has experience building software and leading technology groups as a CTO for companies like MarcomCentral. During this experience he has built and grown product, engineering, IT, and InfoSec teams to launch multiple SaaS products to market and profitability with clients spanning the financial, healthcare, franchise, and manufacturing industries.
Dan lives in Southern California and was born and raised in Adelaide, Australia. He loves the outdoors and disconnects by camping and hiking around Joshua Tree and the San Jacinto Mountains with his friends and family.