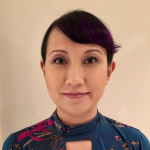 Head of UX & Design • San Francisco, CA
With over 20 years of product and design experience, Cindy has seen her fair share of setbacks as well as successes. As the Head of UX & Design at TaskRabbit, a company that connects people for services such as furniture assembly, home repairs, moving, cleaning, and more, it's her job to make sure setbacks don't hold her team back for long and that they quickly become valuable learnings. Hear what challenges TaskRabbit overcame as they grew from a small startup in Silicon Valley to being acquired by IKEA and expanding internationally.
Prior to TaskRabbit, Cindy's career spanned roles in web development, product management, and UX design at established companies such as Google, Wachovia, and FileNet as well as a number of fast-paced startups. An alumna of Redshift, which was acquired by Blink UX, Cindy's client list included Symantec, OpenTable, Facebook, and Vlocity. She has a background in computer science with additional studies in communications. When Cindy's not solving the problems that a multi-sided marketplace faces, she's geeking out on backpacking gear and Instant Pot recipes.