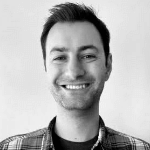 Victor Intermaggio
Research Director • Blink
Research Director • Blink
Santa Monica, California
Victor Intermaggio is a research director who is a scientist at heart and in practice. He aims to bring curiosity, empathy, playfulness, and thoughtfulness to everything he does.
Victor's greatest strengths as a scientist and leader are his adaptability and his empathy. Throughout his career, he has grown his toolkit so he can seamlessly mentor and collaborate with a broad range of partners. He specializes in methods ranging from in-depth interviews to deep learning, and communicating with non-technical business partners from the c-suite to individual contributors.
Prior to joining Blink, Victor embraced his playfulness as a senior researcher at Riot Games, and stretched his curiosity with personal projects in the theory and implementation of neural network modeling. Victor holds a Master's Degree in Computational Cognitive Modeling and has an active Wilderness First Responder certification — He is always learning!
You'll often find Victor on the field — whether that's playing soccer, softball, volleyball, or backpacking in remote wilderness. Victor's two favorite books are "The Pleasure of Finding Things Out" by Richard Feynman, and "Parable of the Sower" by Octavia E. Butler.