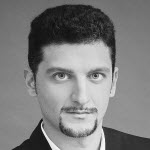 Pietro Turi is the Experience Design Lead at Condé Nast Italy where he is committed to improve the customer experience for all digital products and services of CN Brands: Vogue, Wired, Vanity Fair, Glamour, GQ, CN LIVE! and La Cucina Italiana.
With more than ten years of experience in design and communication for digital media, he has worked for many important Italian and Interantional clients such as Alfaromeo, Allianz Bank, Amplifon, Boscolo, Che Banca!, DeAgostini, Edison, Eni, ESA, Gucci, Hotpoint, Indesit, Il Sole 24 Ore, LG, Prenatal, Rai, Sony, Tele2, Unisalute, Vodafone e Zegna, Zurich.
From 2006 to 2010 he was the UX Lead of LBI IconMedialab, then he left to cofound Liqid, Digital Agency of which he was the Experience Design Director until 2013.
Over the course of his professional career Pietro has designed websites, intranets, mobile apps, interactive touchpoints, ATM interfaces, IPTV and IOT always trying to blend business goals with people's needs and expectations.
Since 2005 Pietro has collaborated with Domus Academy as a professor and project leader on various projects for the Interaction and Business Design Masters. He has given lectures in the Milan and Turin Politecnico and University of Siena on Human Centered Design and mobile design.
twitter @pietroturi