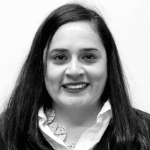 Neiha Arora
Director of Recruiting • Blink
Seattle, Washington
Neiha is the recruiting director at Blink. She spends her day utilizing her design thinking process and design background to help connect candidates with the best opportunities at Blink. All in the hopes that together they create some of the most innovative work!
Neiha received her Bachelor of Fine Arts from Savannah College of Art and Design, and is in the process of completing a Diversity & Inclusion certificate from E-Cornell. She is definitely a global nomad, travelled all across Africa, and some parts of India, and Nairobi, Kenya is home.
She brings 20+ years of experience in guiding and mentoring candidates from various backgrounds. She's placed designers across startups, agencies and corporations. She understands how hard it can be to land your first job, find mentors or receive feedback to re-interview as professionals.
"As a candidate, I know how hard it can be to land your first job, or transition from one space to another, I have been there. We depend on feedback, and when we don't receive that it can be discouraging, and this is where I jump in. As a woman of color, I drive my energy from diverse and inclusive communities, I call them my tribes and keeping my tribes at the core of my research and recruiting process is extremely valuable to me. We all have a responsibility to empower each other in the workplace, and within our communities- to listen, and to be a voice."
Neiha also sits on the board of several non-profit organizations. She is a regular presenter at community events/conferences and volunteers her time across Chicktech, Future for Us, Upwardly Global as well as TEDx. She's also a certified scuba diver, coffee snob, loves the outdoors, and experiments with new cooking recipes every now and then.
As recruiters we have responsibilities, we are gatekeepers to an organization's culture, we are advocates for our candidates, and consultants to our hiring teams. And that means—providing feedback, being transparent through out the recruiting process.