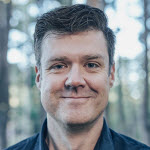 Chris Bransfield
Woods Creative
Woods Creative • Portland, Maine
Chris Bransfield is Experience Director at Woods Creative. He works in Portland, ME and Boston, MA.
Since starting his professional career in 2002, Chris has won awards, been published, and led nationally recognized research that prompted a response from the President of the United States. His ethnographic, field study, and usability research has informed museum, store, and operating room environmental and interface design. He has also conducted research and designed: Documents, patient-self reporting tools, websites, apps, children's educational television programs, video games, voting machines, as well as consumer and medical products.
Today, he continues to conduct research drawing from communication theory, psychology, and sociology to inform experience direction. His work and interests are inspired by people's history, and in particular, the age-old axiom of "one cannot not communicate."
Chris holds a BA in history. His coursework highlighted the role of psychology and human communication through a historical lens. He also minored in education policy and American politics. Additionally he holds a MS in communication research.