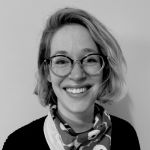 Angie Meltsner
Mixed Methods Researcher • Blink
Mixed Methods Researcher • Blink
Boston, Massachusetts, USA
Angie Meltsner is a Mixed Methods Researcher, marrying quant and qual insights out of Blink's Boston office. Better understanding what makes people tick is what keeps Angie driven, passionate, and curious in her work.
Prior to Blink, Angie spent more than a decade in the media and advertising industry, holding research and strategy roles with companies such as DraftKings, The Wall Street Journal, Digitas, and Comscore. A Mitten-State native, she has a BA in Marketing from Michigan State University. Though Boston is now home, she has also lived in Helsinki and London.
Outside of work, Angie loves to spend time with her husband and daughter, exploring playgrounds, museums, cafes, and restaurants both in faraway places and in her local neighborhood. She enjoys keeping up with high and low pop culture and grooving along to indie music.