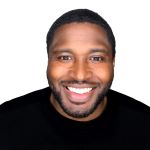 Terell Cobb
Senior Designer • Microsoft
Senior Designer • Microsoft
Atlanta, Georgia
Terell is a Senior Designer at Microsoft, he focuses on building experiences, cultures, and products within the Business Applications Group.
He's a native of Boynton Beach Fl and has championed human-centered experiences within advertising, finance, shipping/logistics, education, and technology.
When he's not working, you can find him with his beautiful wife and son.