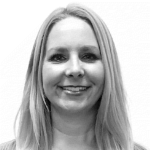 Tasha Doerschel
Project Manager • Insight Space
Seattle, Washington, USA
Tasha Doerschel is a project manager for Insight Space, the qualitative research recruiting division of Blink. She ensures that Insight Space projects go smoothly for clients, researchers, and participants.
Tasha graduated from the University of Washington with a degree in sociology and worked for Seattle Parks and Recreation for twenty years before relocating to Austin. She went back to school and earned a degree in hospitality and tourism, which she uses today as a freelance travel agent.
Outside of Blink, Tasha is an avid hiker and beer enthusiast. She is involved with the Victory Brew Hiking Club and is developing a non-profit organization that takes youth on therapeutic hikes. Tasha is also involved in the music community, volunteering with the Melodic Caring Project. A dedicated Seattle Seahawks season ticket holder, outside of work, Tasha can be found at games or enjoying the outdoors.