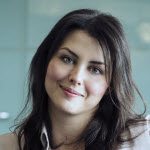 Outwitly Inc.
Sara Fortier is a design strategist and the CEO and founder of Outwitly Inc. – a design think tank that aims to transform organizations and customer experiences through leading edge design and research methods. She is an expert in design thinking and human-centered approaches to innovation.
Sara brings invaluable experience as the former UX Director for one of the top ten media companies in the United States and from working in Silicon Valley for Fortune 500 clients such as Apple, AT&T, and Microsoft.
Transitioning from her experience in the high-tech world, she now helps organizations improve systemic issues surrounding user and customer experiences by applying the same human-centered and innovative practices used in product and service development.
Sara received a Master of Interdisciplinary Design and a Bachelor of Industrial Design from Carleton University.
Contact info & social:
Website: outwitly.com
LinkedIn: https://ca.linkedin.com/in/sarafortier
Twitter: @outwitly
Instagram: @outwitly