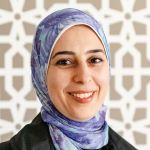 Sandra Youssef
Technical Writer • Independent
Technical Writer • Independent
Seattle, Washington, USA
Sandra Youssef is an independent technical writer. Previously a civil/environmental engineer, she switched careers after taking some time off work while her children were young to volunteer at their schools and co-lead their Girl Scout troops.
Sandra recently completed the University of Washington's Certificate in Professional Technical Writing and is becoming more interested in UX writing and design. She is currently working on setting up the websites of Welinske & Associates' UX Writer Conference and Blink's ConveyUX conference, in addition to completing conference support tasks.
Outside of work, Sandra enjoys Seattle's summer hikes, teaching, traveling, and collecting books — for one day, she will regain her free time for leisure reading.