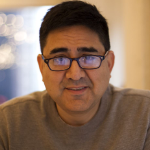 Richard Alvarez
UX Service Line Director • Apexon
Greater Chicago Area
Richard Alvarez has a passion for User Experience (UX) and innovation. He started his career at Microsoft — this was back before the internet, mobile, and digitally connected world we live in now. The big thing back then were CD-ROMs. Regardless, he fell in love with digital storytelling. There's always something new and exciting to learn on the horizon. He ran his own interactive studio, wrote a book on Flash, and taught innovation at Northwestern University for 16 years.
Today, Richard is the UX Service Line Director at Apexon. Apexon is a digital-first technology services firm specializing in accelerating business transformation and delivering human-centric digital experiences focused on three broad areas of digital services: User Experience (UI/UX, Commerce); Engineering (QE/Automation, Cloud, Product/Platform); and Data (Foundation, Analytics, and AI/ML), with deep expertise in BFSI, healthcare, and life sciences.
His goal is to always strive for collaborative UX thinking, streamline workflows, and of course, create great user experiences. What he loves most about UX is the chance to connect with people, uncover issues, and be a part of a team focused on finding solutions for real people!