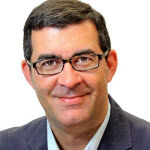 Parrish Hanna
Ford Motor Company
Ford Motor Company • Dearborn, Michigan
Parrish and his HMI team at Ford guide the design and development of the Interior Design and Interactive Experiences for all Ford and Lincoln vehicles. Through the synthesis of emerging technologies, consumer understanding, and thoughtful physical and digital design, they ensure that consumer interaction with Ford vehicles is easy, clear in use, smart, meaningful and safe.
Prior to joining Ford, Parrish held the position of Global Director of Design Strategy and Research at Motorola Mobility. His experiential focus spanned diverse digital topics including navigation, information structure, as well as domains including messaging, music, multimedia, productivity, social media, contextual awareness, browsing, web services and more. His team also resolved physical topics like fit in hand, optimization of input and sensor usage. Parrish also led the definition and conceptual development of Motorola's next-gen portfolio of products and services – the results of which are still being introduced and delivered today through the world's premier telecom carriers.
Earlier in his career, Parrish served as a Global Design Advisor to Samsung, building and managing Experience Planning teams within the Advertising and Marketing space and co-founding and operating the industry's first user experience firm, HannaHodge. He also enjoys the vitality of teaching, coaching and lecturing at Design and Business schools throughout the world.
The constant throughout his many years is an interest in "what is", "what could be" and "what if" in the context of consumer research, design and innovation. His success is defined and measured by realizing opportunities, sparking high talent cross-functional teams, and delivering products and services that impact and drive brand and revenue growth. Parrish has a Masters of Design from the University of Cincinnati, a bachelor's of Industrial Design from Auburn University and a handful of patents and industry awards.
 Video Preview