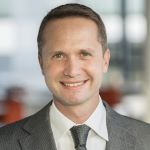 Michael Lewrick, Ph.D.
Senior Advisor | Managing Director • Lewrick & Company
Senior Advisor | Managing Director • Lewrick & Company
Zurich, Switzerland
Michael Lewrick, Ph.D., has spent the last years exploring very deeply the mindset that enables us to solve different kinds of problems. He is, among other things, the author of the international best-sellers The Design Thinking Playbook and The Design Thinking Toolbox, in which he describes the mindful transformation of people, teams, and organizations. He works extensively with universities and companies, and people's self-efficacy in personal and organizational change projects is always at the forefront of his thinking.
In recent years, he has expanded his toolbox for designing business ecosystems with an expanded view of Design Thinking for Business Growth, described in his latest design thinking book. He is an internationally recognized expert in the fields of digital transformation and the management of innovations, and numerous companies have developed, refined, or scaled innovation, growth, and ecosystem strategies with his help.
Michael will speak at ConveyUX '22 Conference about the 10 essential mindshifts to create powerful business ecosystems.