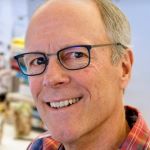 Principal UX Researcher • Seattle, WA
Michael Harding is a principal UX researcher at Blink and enjoys working with clients to uncover insights into their product's end to end experiences, with a particular focus on hardware UX.
Michael comes to Blink with 13 years of experience in user experience research from Microsoft, including five years as a device lead with the Surface device team. During his time at Microsoft, he got to know Blink through partnerships Blink had with various Microsoft teams and in the end, was convinced to change his desk view for the opportunity to work with amazing clients from around the world.
Michael is originally from New England (Maine and Mass), where he spent his former life racing sailboats and playing on the coast, but has called Seattle home for 24 years now. He lives here with his wife, Gretchen, and two very active and demanding teenagers. Michael is always open to chatting about skiing, hiking, and cycling in the Northwest, travel, and also likes to play and listen to music. He enjoys it all but plays in a bluegrass band.