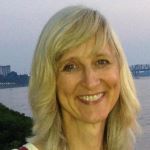 Marymoore Patterson
Director, Design Research and Strategy • San Francisco, CA
Marymoore explores the human side of emerging technology and problems that matter. As
Director of Design Research and Strategy at Panasonic, she translates human insights into
product decisions for AI-enabled home experiences. Much of her work has related to people in critical moments of transformation—going to college, becoming pregnant, aging—and the
complicated web of needs and opportunities that arise in shifting family constellations.
Most recently, she and her team have researched how women in the sandwich generation in Japan, China, and the US manage care and communication. Some of the biggest challenges Marymoore has faced have been in bringing products that integrate intimately with people's language and social norms from one culture to another. What differentiates a product in its place and time of origin can radically change in a new context. (And stakeholders building on successes are often least able to perceive the risks.)
With 25+ years of experience in product innovation at both corporations and startups,
Marymoore has directed global projects in digital health, edtech, future retail, connected
home, smart energy, and embedded semiconductor. She is fluent in Mandarin Chinese and
Japanese and loves reading speculative fiction from around the world to see how different
people imagine the future.