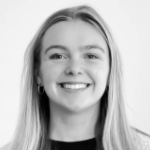 Lilly Murphy
Visual Communications Designer • Blink
Seattle, Washington
Lilly Murphy is a visual communications designer at Blink. She loves being surrounded by so many design thinkers and learning something new from them everyday. She is passionate about problem solving, and using design to bring moments of joy to peoples' lives.
Lilly received her Bachelors of Design in Visual Communication Design from the University of Washington. Before coming to Blink she worked with several small companies helping them build out their brands and visual design systems.
Outside of Blink you can find her listening to podcasts while walking around the city, watching live music while enjoying good food, and playing cards with friends and family!