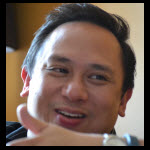 Len Peralta
Independent Artist
Independent Artist • Cleveland, Ohio
Len Peralta has been the interpretive sketch artist for several years at ConveyUX. He'll be back for again with more live sketching of our sessions.
Len's quirky, offbeat style has become synonymous with geek culture. Len is behind the online viral art projects Monster By Mail, 50 vs 50 and FlipFace. Along with designing a variety of card games, Len has illustrated several books including "There's A Zombie In My Treehouse" by John "Widgett" Robinson and Ken Plume, "Silly Rhymes For Belligerent Children" written by MST3K/Cinematic Titanic's Trace Beaulieu and "Super Powered Revenge Christmas" a graphic novel with Bill Corbett of Rifftrax. He just released a new graphic novel series, Exterminite, with Mikey Neumann and Kris Straub. Len is the resident artist every Friday for Tom Merritt's Daily Tech News Show where he draws an original piece while the show is being recorded. His work has appeared on CNN.com, The New Yorker and at gallery exhibitions in Chicago, Cleveland, New York and San Diego Comic Con. Len was also listed as one of the Top 100 Geeks To Follow on Twitter by Wired Magazine.
Len has also been podcasting for over a decade. He produces a show called Jawbone Radio with his wife Nora, records his Geek A Week podcast on a semi-regular basis and is the co-host of Creature Geek, an SFX/makeup podcast, with Frank Ippolito.
Len resides in a suburb of Cleveland, Ohio with his wife of over 20 years, Nora. Together they have raised (and continue raising) their seven children. He is a hirable art gun and you can ask him to work on your next project. He promises to be really super easy to work with.
Video Preview