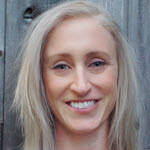 UX Designer • Seattle, Washington
UX‌ ‌designer,‌ ‌artist,‌ ‌geek,‌ ‌mountain‌ ‌biker,‌ ‌kiteboarder,‌ ‌urban‌ ‌farmer,‌ ‌dancer,‌ ‌dreamer,‌ ‌tireless‌ ‌
optimist.‌ ‌Lauren‌ ‌Javor‌ ‌is‌ ‌passionate‌ ‌about‌ ‌creating‌ ‌frictionless,‌ ‌lovable‌ ‌experiences.‌ ‌She‌ ‌
considers‌ ‌herself‌ ‌a‌ ‌professional‌ ‌simplifier,‌ ‌on‌ ‌an‌ ‌eternal‌ ‌quest‌ ‌to‌ ‌reduce‌ ‌complexity‌ ‌without‌ ‌
sacrificing‌ ‌functionality.‌ ‌She‌ ‌holds‌ ‌a‌ ‌master's‌ ‌degree‌ ‌in‌ ‌interaction‌ ‌design‌ ‌from‌ ‌Umeå‌ ‌Institute‌ ‌of‌ ‌
Design‌ ‌in‌ ‌Sweden‌ ‌and‌ ‌a‌ ‌bachelor‌ ‌degree‌ ‌in‌ ‌Industrial‌ ‌Design‌ ‌from‌ ‌Carleton‌ ‌University‌ ‌in‌ ‌
Canada.‌ ‌Her‌ ‌design‌ ‌career‌ ‌has‌ ‌brought‌ ‌her‌ ‌on‌ ‌a‌ ‌journey‌ ‌beginning‌ ‌with‌ ‌designing‌ ‌physical‌ ‌
objects‌ ‌and‌ ‌consumer‌ ‌electronics,‌ ‌to‌ ‌graphic‌ ‌design‌ ‌and‌ ‌eventually‌ ‌to‌ ‌the‌ ‌design‌ ‌of‌ ‌digital‌ ‌
experiences.‌ ‌She‌ ‌has‌ ‌worked‌ ‌on‌ ‌a‌ ‌wide‌ ‌range‌ ‌of‌ ‌projects‌ ‌including‌ ‌a‌ ‌system‌ ‌to‌ ‌get‌ ‌blood‌ ‌
products‌ ‌to‌ ‌hospital‌ ‌patients‌ ‌more‌ ‌safely‌ ‌and‌ ‌efficiently,‌ ‌conceptualizing‌ ‌the‌ ‌future‌ ‌of‌ ‌
productivity,‌ ‌a‌ ‌product‌ ‌for‌ ‌reducing‌ ‌stress-related‌ ‌insomnia‌ ‌where‌ ‌you‌ ‌control‌ ‌water‌ ‌with‌ ‌your‌ ‌
mind‌ ‌and‌ ‌interactive‌ ‌installations‌ ‌for‌ ‌a‌ ‌new‌ ‌science‌ ‌center.‌