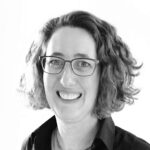 Lad Decker
Research Director • Blink
Research Director • Blink
Seattle, Washington
Lad Decker is a research director who enjoys uncovering mind-blowing insights to illuminate user experiences that increase our quality of life. She's fascinated with human nature and our endlessly complex ability to see the same thing differently.
With over twenty years of experience in UX, Lad has worked with a broad range of clients and industries conducting research, strategy, and design. She enjoys the logic of B2B, enterprise and consumer experiences. But it's her work with theater, dance, and education that feels most rewarding because she's also an artist. She specializes in mental models and generative research that blows up old ideas and help teams reach above and beyond.
When not innovating in the world of human-computer interaction, Lad is painting and drawing in the analog world, inspired by her interests in the Cold War, espionage and crime fiction.