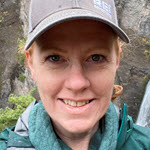 Kim Wiessner
Director of Platform UX, CX Strategy • REI Co-op
Director of Platform UX & CX Strategy • REI Co-op
Bellevue, Washington, USA
Kim Wiessner combines customer-led design with a passion for getting people outside at REI Co-op, where she serves as the Director of Platform UX, CX Strategy, and as a practice lead for the CX/UX product design practice. Kim leads product design teams that focus on end-to-end customer experiences and employee experiences. She is currently working to build a new capability within the product design practice called CX Strategy, focused on Customer Journey Management and Service Design. Her team includes designers, researchers, and content designers. She partners with a group of design leaders within her practice to advocate for product design and define the future of the Product Design practice at REI.
Kim's career has spanned a diverse range of products, experiences, and organizations ranging from a few nimble startups to global organizations (HSBC), innovation teams (USAA), and now as part of a CX product experience organization. Her ability to establish a vision, lead through ambiguity, build teams and relationships, bring endless energy and lead with customer evidence have served as the foundation of her career.
Kim's specialties include product design, customer innovation, building platform experiences, cross-functional collaboration, influencing organizational change, evidence-driven design and executive stakeholder management.