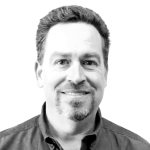 Kelly Franznick
Chief Innovation Officer, Co-founder & Partner • Seattle, WA
Kelly is the Chief Innovation Officer (CIO) and Co-Founder of Blink. He focuses on the future of Blink's tools, services, and methods while also working on unique project requirements. He is passionate about making our daily interactions with technology more innovative, intuitive, and rewarding.
While growing Blink from two to over sixty employees, he has worked with hundreds of clients, from tech-sector heavy hitters like Apple, Google, Amazon, Microsoft, to startups, and non-profits. He enjoys working on cutting edge projects in the data visualization, healthcare, and the IT spaces. He feels lucky to have contributed to some of the largest and most successful product launches in history
Always eager to share his passion for design and technology with others, he volunteers his time as an instructor and external advisor for programs at Lake Washington Institute of Technology and the University of Washington. His work has been recognized with a number of awards including several IDSA IDEA awards for design excellence, and he has spoken on the topic of UX at the University of Washington, Convey UX and the Project Management Institute to name a few. In 2011, he was featured as "Geek of the Week" from Geek Wire Magazine.
In 2016, Blink made Forbes Magazine's Best Small Companies list and has won the Puget Sound Business Journal's Washington's Fastest-Growing Private Companies award in 2015 and 2012, Seattle Business Tech Impact Silver Award in 2015, and was listed on Inc. Magazine's Top 5000 Fastest-Growing Companies in America list in 2015, 2014, 2013 and 2012.
Kelly holds a degree in industrial design from Arizona State University and a Masters from the Illinois Tech's Institute of Design in Chicago. Prior to founding Blink, Kelly led user-centered design teams at E-Lab, Personal Health Connections, and Bowne. You can read Kelly's full LinkedIn bio, read his blog, and follow him on Twitter @kfranznick.