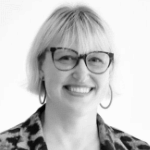 Kate Ronkainen
Research Director • Blink
Greater Seattle Area
Kate is a research director for Blink's Seattle studio.
Over the past decade, Kate has worked as a product manager for companies like Trulia.com, Zillow.com and Rover.com. There she realized that delivering insights that create improved human-centered products, services and experiences is her true passion.
When Kate isn't in the research labs, you will find her in the mountains climbing or skiing. She also loves reading, cooking, creating amazing costumes, snuggling with her chihuahua Yahtzee, and playing Beat Saber.