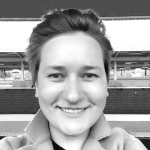 Kate Hofmann
UX Director • DXC Luxoft
UX Director • DXC Luxoft
Berlin, Germany
Kate Hofmann is a User Experience Director who has built a team from 1 to 60, combining management, consulting, strategy, experience design, and engineering talents. Being the first team member, she has experience working as a UX Designer and Researcher, both with complex enterprise systems, developed for internal employees, as well as with B2C products for a variety of business sectors, crafted for the mobile platforms.
Kate is a psychotherapist by background, and this practical experience has helped her to successfully conduct hundreds of face to face user research sessions in Seattle, New York, London, Copenhagen, Singapore, Dubai, Kuwait and many other locations, with a good pack of insights about user needs and cultural factors.
Her biggest love is shakshuka and "flat white mit hafer".