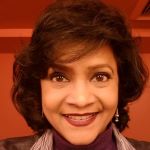 Joyce K. Paul, PhD
Stealth Project & Consulting
Design Researcher & Strategist • Seattle, WA
Joyce Paul Siamak is a people nerd, ethnographer, UX design researcher, content designer, speaker, educator and design thinking coach. She comes from an eclectic background that ranges from painting, music, voice talent and dance to anthropology, kinesiology genetics, content design and product development among others.
She holds a PhD in Anthropology of Performance Studies. Her distinctive and eclectic background enables Joyce to hold a unique viewpoint into the functioning of the learning mind, and the complexities of human computer interaction.
Prior to launching her own company, Joyce lead the 2nd phase of implementing hypothesis driven product development coaching for the Cloud and Enterprise division at MS, was the UXR consultant for Expedia, MS Office, and Volume licensing and startup companies. At Microsoft, she has released about 15 products and lead the creative UX team for Voice Solutions. She is a passionate advocate for the user and has a proven track record of evangelizing user experience as a multidisciplinary approach to product and service creation. She pioneered bonding content development, UI text, instructional design and usability under one functional unit to better deliver user-friendly products.
Her popular talks below include the lessons gleaned from her experience:
1. Yay! I am an HCDE Graduate! Now what? (how to create compelling products in real life)
2. Straying from "the" path to create "your" own path.
3. Being Joyce "DaVinci" Paul and navigating recruiting bias.
4. Nudging empathy and compassion over technique and technology.