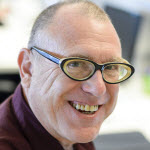 Blink UX • Vashon, Washington
Contact Joe at anytime. Email: joe@blinkux.com  Phone: 206-304-1687
Joe Welinske is the program manager for ConveyUX. He has been responsible for bringing together the bright lights in the UX community to Seattle for this special event. Outside of the conference activities, Joe specializes in helping software development effort through crafted communication. The best user experience features quality words and images in the user interface. The UX of a robust product is also enhanced through an effective content strategy.
Joe has been involved with software development since 1984 – specializing in the areas of content strategy and user assistance. He recently published the second edition of his book, Developing User Assistance for Mobile Apps. He also teaches courses for Bellevue College, the University of California, and the University of Washington.
Joe received a B.S. in Industrial Engineering from the University of Illinois in 1981, and a M.S. in Adult Instructional Management from Loyola University in 1987. Joe served as the President of the Puget Sound Chapter of the Society for Technical Communication from 2006-2008 and as Membership Director for the Puget Sound Chapter of the Usability Professionals Association in 2010.