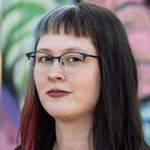 Jenn Downs
Lead UX Designer and Researcher • A1M Solutions
Lead UX Designer and Researcher • A1M Solutions
Decatur, Georgia, USA
Jenn Downs is a Lead UX Designer and Researcher working in civic tech, with a dream to continually improve the quality of design and research on government tech projects. She got her start in tech with MailChimp as their first support employee and quickly grew with them into UX.
Since then Jenn has worked as the Director of UX for a nonprofit, been a mentor for Code for America and invented the awkward, yet helpful, Laptop Hugging Method for remote mobile testing.
She likes taking long walks with her dogs during which she contemplates whether she should move into product management.