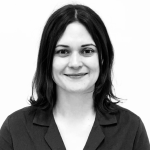 Irene Barber
Design Director • Blink
Design Director • Blink
Seattle, Washington, USA
Irene Barber leads complex, workflow-driven interaction design projects and brings over a decade of professional design experience to our interaction design team.
She discovered her passion for the user-centered design process while working as a graphic designer and has pursued UX consulting work ever since. UX fulfills her inquisitive nature by allowing her to learn about, and help solve problems for, a variety of industries and environments, as well as the diverse people within them.
She holds a B.S. in Informatics from the University of Washington where her capstone team was a semi-finalist in the Washington Health Alliance's "Be the Change" competition. She continues to be interested in how technology can influence and facilitate social change.
Irene was born and raised here in the Pacific Northwest, and she enjoys taking day trips out into all it has to offer. A UXer by day and musician by night, you can catch Irene performing out in the local music scene with one of her musical projects.